You know you're supposed to review it, although few of us do, and it is there for your own protection in the "unlikely event," in every seatback on every airliner from every country throughout the world: the laminated safety card. These colorful works of universal illustration all answer the same basic questions – Where's the life vest? How does the oxygen mask work? Where's the closest exit? – but every plane and every airline has its own unique system of graphic shorthand to communicate quickly and across language barriers.
According to Design for impact - Airline Safety Cards: "Airline safety cards are one of the most collectable and unique sources of everyday information graphics. From the most classic examples, the first text-based cards of the 1930s, to the meticulously illustrated cards produced for aircraft such as Concorde, safety cards display a wide variety of aesthetic approaches, ranging from late-1950s optimism to contemporary graphic minimalism. Far from complying with a universal graphic standard, safety cards reflect the culture in which they were produced."
I started collecting safety cards in 1989. My first piece was an Air Canada Tristar L-1011-500 that I took on a flight between Paris and Toronto. Since then, I have collected over 1 200 different safety cards of most aircraft types and nearly 100 airlines of around the world. In particular, I have a special interest for cards of Air France, Tarom, Air Madagascar, Ethiopian Airlines and Concorde. If you have any of these for trade or sale please do not hesitate to send me an email. My most wanted safety card is the Tupolev TU-144.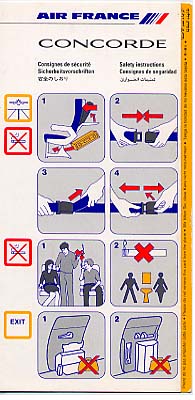 vvvvvvvvvvvvvvvv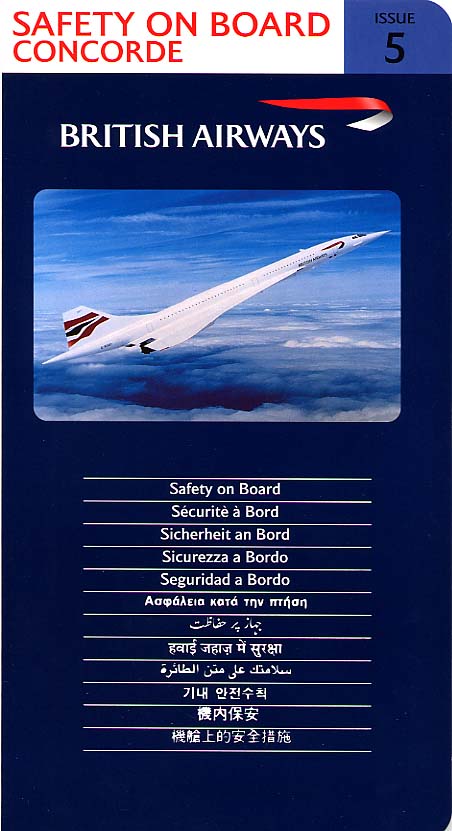 See Airtoons for fun safety cards captions and aeroplane.ru, the best safety cards web site.